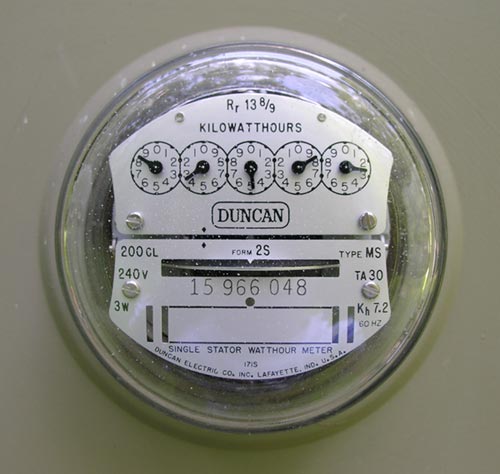 Some months ago, a
PG&E
service guy noted a small gas leak in one of the pipes leading to an insert I had installed into a fireplace in our living room. "You should get this fixed", he said, "it's costing you money."
I dismissed the seriousness of the the warning, yet on the porch leading to the front door, in the months that followed, we would get a waft of the smell of gas.
Last Saturday, as another serviceman was doing routine inspections on our street, he again noted the leak, but as I spoke to him, he added "There's something else going on here and I've called another guy with more sophisticated equipment who can verify exactly where more gas is leaking from." About 45 minutes later, a second service guy appeared and aiming some kind of "clicking" device at the wall said, "You have a serious leak in the pipe leading through your foundation. This is a hazardous situation and we have to shut off your gas immediately. Call a reputable licenced plumber to fix it. When it's done, call us back and we'll turn the gas on immediately."
"Shit. Big bucks", I thought and cursed my fate. I scrambled through the Yellow Pages, and found a plumber with a proven reputation, but when I called, I got a message telling me they were "out for lunch." It was Saturday, and I thought "They're probably out till Monday", so I plotted how we would manage without gas and hot water till then, and thanked God for the microwave.
Meanwhile, I spoke to my neighbor, Steve, who often has contractors of all types working on his house if he knew a guy who could replace the leaking pipe. "I know a guy, Braulio. He can do it for you. I'll call him right now. It was Sunday. When Braulio called me he mumbled some stuff, barely audible, about coming out to see the problem. Hours passed. Nothing. So about 6PM, he again called and said he was lost and something about his brother. I was pissed. "This guy is probably another of these unreliable dudes, not too interested in making money." I decided to wait for the guy from the Yellow Pages to call on Monday. He did, bright and early (7:45 a.m.), assuring he an estimator would call me "Soon." About 11:00 no call. So I called the outift again. "Oh, we'll call him again. He should get a hold of you soon." Well, he did. Five minutes later he called. "I'm on my way."
Meanwhile, I see this Mexican guy in a pickup pull up next door, with two other guys, who walked to Steve's house. "Oh, no", I mumbled, "This is probaby Braulio!" It was. Now, I would have two plumbers there at the same time! Luckily, the other guy took about 15 minutes to get to my place, giving time for Braulio to size up the situation." As the other guy arrived, Braulio walked past him saying "I gotta' make un delivery. I call ju soon." When the Yellow Page guy finished his inspection he announced, "It'll cost you about $500." I was broken. "I'll think about it", I said, "and call you back later." He left.
10 minutes later, Braulio called. "Can you fix the pipe? How much?" "How mush di oder guy wan'?" I hesitated. "500." "Thas' mucho dinero", he said. "How much will you charge me? " A pause. "Hunder fifti." I contracted him on the spot! "When?" "Ahorita." And 15 minutes later, Braulio was there with his two helpers and promptly got to work. Thank God for Mexicans! A couple of hours later, the job was done, and I threw in an extra fifty bucks for his helpers. Braulio was grateful.
Now, came the easy stuff: call PG&E and they'd send a guy right away to turn on my gas. When I called the 800 number, I got a recording, of course, that prompted me to Press 1 for English and 2 for Spanish, 3 for that, 4 for something else, and "If this is correct Press 8", after each one etc. etc. etc. I was finally told to "wait" while a representative spoke to me. When he got on the line, he promptly asked me to repeat all the information I had just finished punching into the recorded prompts!!! "This is just to verify that what you entered is correct", he said in an appeasing tone. "How long is the pipe you replaced?" He asked. "About 4 ft. long." "Oh, you will need to call the CITY and get them to do an
INSPECTION
on it, before our serviceman can turn on you gas." "But I was told nothing about any CITY inspection!", I complained. "I'm sorry, sir." "I'll give you the number?"
So after reaching another recording at
CITY HALL
, telling me to Press 1 for English, 2 for Spanish, and to press 3 for this, and 4 for that, and 5 for something else, the voice finally "asked" me to enter my
Building Permit
Number
on my claim! I only wanted an
INSPECTION
, but no, evidently I had to get a Building Permit,
BEFORE
they could even do an inspection. But the job was already done!? Being still early, I decided to drive downtown to CITY HALL and speak to
LIVE PERSON
and get all this shit straightened out.
But when I got there, the parking lot and all the spaces were empty. Then, I remembered.
"OH SHIT IT'S GOD DAMMNED COLUMBUS DAY!!
In a fury, I called PG&E again when I got home, determined to speak to the president if necessary. I figured out a way to get a
REAL PERSON
right away and I related my plight to her, trying my best to win her pity and compassion. It worked! "Mr. Rios, I don't see why you need a CITY inspection at all. I will put in a request to have your gas turned on, but let me see... ummm, looks like we don't have a service man available until next... Monday?" I exploded! "Next Monday???" She must have sensed my desperation, so she put me on hold while she checked further. When she came on the line again after about three minutes, she uttered, "We'll send someone out today. He'll be there no later than 8pm is that OK?"
Two hours later, the service man knocked on my door, ran some pressure checks, and announced "Look's good, Mr. Rios", and promptly turned on my gas!
Now, that's what I call "service." Now, I'm really looking forward to a good, HOT shower but I just wanted to finish this, first.